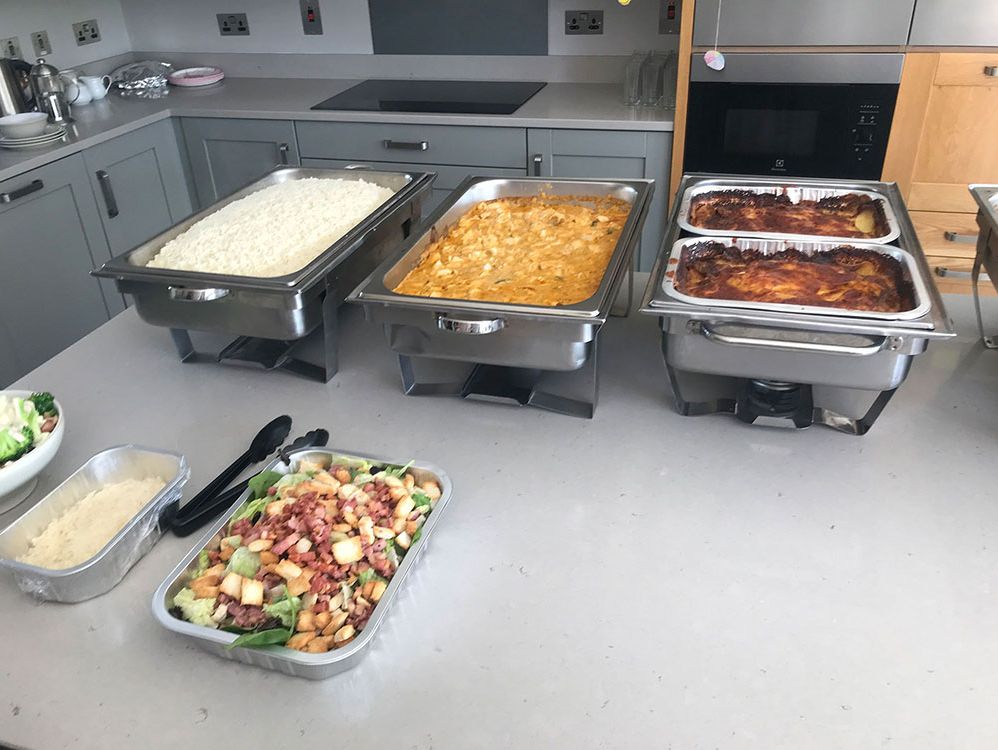 02/03/2023 0 Comments
Catering: Your Questions Answered
Ryan's Food Emporium is one of Ireland's very best catering services.
Combining carefully sourced meat and fish with culinary expertise creates a mouth-watering culinary experience for all types of events. As everyone who puts on an event knows, the food is one of the most important things. Therefore when we discuss catering events, our clients inevitably have questions. To make this information that much easier to find.
What is catering?
Catering refers to providing food, drinks, and related services for events, such as weddings, corporate meetings, parties, and other special occasions. Caterers are responsible for preparing, cooking, and serving food and drinks on-site or off-site, depending on the event's needs.
Catering services may include menu planning, preparation of food, table set up and decoration, serving food and drinks, and cleaning up after the event. Caterers work closely with their clients to determine the type of cuisine, the number of guests, the location, and any other special requests.
Various businesses, including restaurants, hotels, and specialised catering companies, can provide catering. Catering services can range from small-scale events, such as business luncheons or private dinners, to large-scale events with hundreds or thousands of guests. Catering aims to provide a memorable experience for guests by offering high-quality food and exceptional service.

How much per person for wedding catering?
In Ireland, the cost of wedding catering per person can vary depending on several factors, such as the location, the type of cuisine, and the level of service provided. However, based on industry averages, the cost of wedding catering in Ireland can range from €40 to €120 per person.
For a more basic catering package, such as a buffet or BBQ-style meal, the cost may start at around €40 per person. A more elaborate sit-down meal with premium ingredients and multiple courses may cost upwards of €80 to €120 per person.
It's worth noting that the cost of wedding catering in Ireland may also include additional expenses such as tableware, linens, staff, and equipment rental. These costs can add up quickly, so discussing the details with your caterer before finalising your budget is essential.
It's always a good idea to shop around and compare prices from multiple caterers to find the best value for your budget. Additionally, some caterers may offer package deals or discounts for more significant events, so be sure to ask about any special offers or promotions that may be available.

What questions to ask a catering service?
When considering a catering service for your event, it's important to ask various questions to ensure that you find a caterer that can meet your specific needs and expectations. Here are some questions to consider asking a catering service:
What type of cuisine do you specialise in?
What is your availability for the date of my event?
How many guests can you accommodate?
Do you offer customisables menus? Are dietary restrictions accommodated?
Can you provide references or testimonials from previous clients?
What is your pricing structure? Are there any hidden costs?
What services are included in your catering package (i.e. tableware, linens, staffing, etc.)?
What is your cancellation policy?
How far in advance do I need to book your services?
How will you ensure the quality and freshness of the food at my event?
These questions can help you better understand the catering service's capabilities, experience, and pricing structure. Additionally, it's important to discuss any specific needs or concerns that you may have regarding your event to ensure that the caterer can accommodate your requests.
As part of your catering service, do you provide vegetarian options?
Yes, as part of our catering services, we can provide various vegetarian options. We recommend that our clients let us know what kind of veggie options they are looking for before completing a booking. 

If you have any specific questions about our catering service, please get in touch with our offcies today. A customer service team member would be more than happy to discuss your event's catering needs. 
Feed